Rosa Griffin loved her assistant teacher job, but the pandemic disrupted a lot of things, including the preschool where she worked for 11 years. She needed more hours, but that wasn't a possibility, and when the preschool shut down, Rosa felt empty.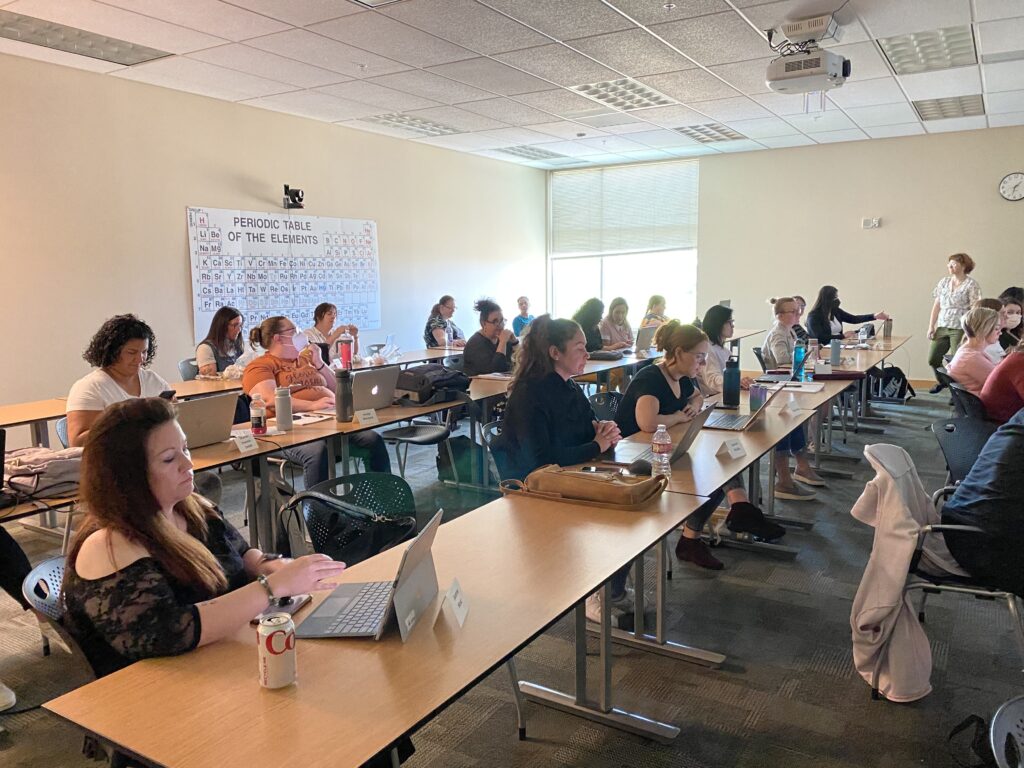 But what happened next not only changed her but influenced her teenage children – not always easy.
Searching for any viable job was her new job #1. That's when she saw a Facebook post from a recently divorced neighbor about a new program called Tech-Moms.
Tech-Moms, a non-profit organization that helps women transition into or re-enter a career in tech, empowers moms to create career development opportunities while simultaneously being great mothers and caregivers.
One reason we can make Tech-Moms affordable is because of support from companies such as Comcast, which helps us keep the cost to $400 per person for the 9-week program, when it actually costs around $3,000," said Robbyn Scribner, Tech-Moms cofounder.
Comcast is focused on supporting programs that help Utahns improve their tech skills for better jobs and more personal fulfillment.
"Our commitment to these causes are unwavering and enthusiastic," said Deneiva Knight, External Affairs Director at Comcast.
My neighbor went from being completely lost to finding herself in such a major fashion that it blew me away," Rosa said. "I thought maybe this could be a new beginning for me, too."
Even though Rosa had been in school settings for years, the thought of becoming a student in a new tech coding program was intimidating.
"It was daunting and challenging," she said. "Getting back in school as a student instead of a teacher was a big challenge, but they would teach us and help us realize that we have the capability of learning, that we are resilient and teachable. We learned that no matter how old you are, you can learn."
As a mother of three teenagers, Rosa saw that her children noticed.
My one daughter showed off to her friends and said, 'My mom went back to school and is doing this,'" Rosa said. "My heart grew 10 times to see my 16-year-old be proud of things I was doing. Now they will come to me with questions because they saw a change in me."
Even if the path of tech isn't for everyone, Rosa saw that Tech-Moms teaches more tools to use in finding better jobs.
"It was more than just teaching us how to work on a computer, they taught us how to write a resume, sell our experience, promote our abilities, and how to advocate for ourselves," she said. "To me, that was the biggest value of the time I spent with Tech-Moms."
Rosa learned that the path is not always easy but persistence pays off. A Facebook friend posted an ideal job, but it required more than Rosa had.
"It was my dream job, helping families that have children that were babies from newborn to three years old, that had developmental delays," Rosa said. "Coaching families is what I really wanted but it required a bachelor's degree, which I didn't have. I explained all my experience and they called me for an interview. Two days later, they gave me the job with the only requirement that I needed to be working toward my bachelor's. Tech-Moms helped me get to that point of confidence."
Her message to others? It's about believing in yourself and knowing your value. It's about standing up for yourself because that speaks more about you and your capabilities than any paper you can show.
Give it a try with Tech-Moms. They will help you find a way and help you recognize your inner value, your strength," she said. "They will help you sell all your great capabilities and qualities that you might not even see in yourself."
As we celebrate National Women's History Month this March, let us recognize the quiet but profound influence that women have on society, culture, families and communities. Let us also celebrate organizations like Tech-Moms, which are working to support women in their pursuit of successful careers in the tech industry.
#NationalWomensHistoryMonth #TechMoms #GrowWithTech #ChangeTheGame #WomenInTech #SheBelievedSheCould #BreakingBarriers #EqualityInTech #ConfidenceToSucceed