In 2021, Comcast's network traffic continued to grow, with entertainment activities like video streaming accounting for 71 percent of downstream traffic.  As network demand evolves, Comcast continues increasing speeds for its most popular Xfinity speed tiers.   
Comcast just announced Salt Lake City is the first community in Utah where the company is beginning to deliver download speeds of 2 Gbps over the connections already existing in homes and businesses today. Once the rollout is complete, these multi-gig speeds will be available in all of Comcast's service area in Salt Lake City, as well as throughout Comcast's entire footprint in Utah.    
The network updates we are rolling out to support these new speeds in Salt Lake City today deliver immediate performance benefits to our customers.  This is part of a nationwide rollout of multi-gig Internet speeds – that will reach more than 50 million homes and businesses before the end of 2025 – making it the largest- and fastest-ever multi-gig deployment in the United States. New speeds will be paired with Comcast's multi-gig Wi-Fi experience, which delivers the industry's best combination of speed, coverage, and control, powered by one of the world's first Wi-Fi 6E Gateways. 
In addition to the immediate performance boost, this work also accelerates the transition to DOCSIS 4.0 and 10G. Powered by DOCSIS 4.0, 10G will deliver multi-gig symmetrical speeds to tens of millions of people over the connections already installed in their homes and businesses, without the need to dig up yards and neighborhoods, or pick and choose who gets faster speeds and who doesn't. The technical updates included in the initiative announced today are a necessary precursor to Comcast's 10G deployment.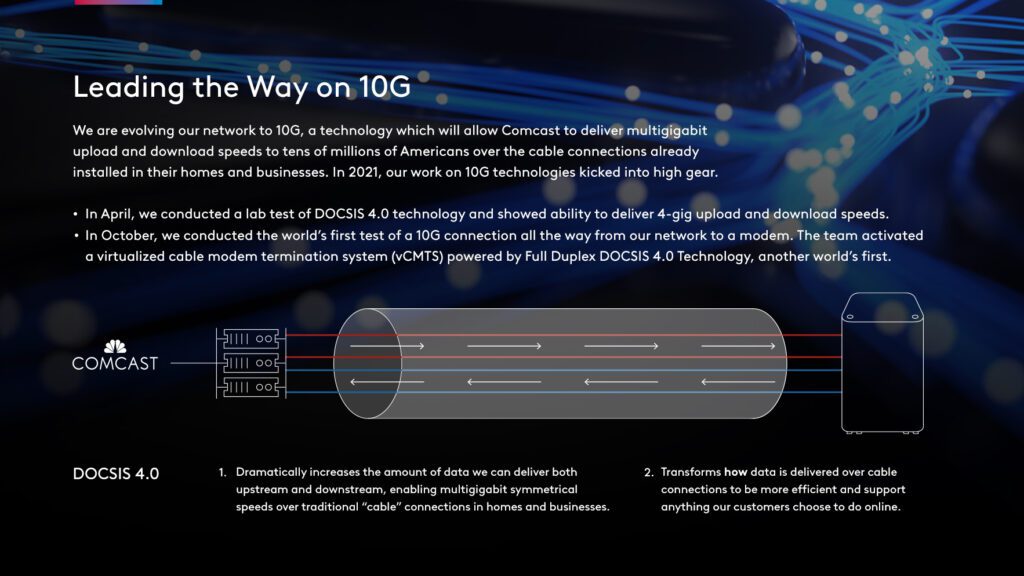 Thanks to this work, Comcast plans to start launching 10G-enabled multi-gig symmetrical speeds to customers in the second half of 2023. That work will happen on a parallel path with the introduction of faster speeds launching now. 
While the last few years have been marked by shifts in internet usage patterns, Comcast's network continued to thrive as overall demand rose to historic levels. In 2021 alone, Comcast invested more than $4.2 billion to strengthen, expand and evolve our network — more than any previous year. This includes over $389.6M in the state of Utah.     
"Investing in technology and infrastructure ensures Salt Lake City maintains the fastest and most reliable internet service for our residents," said Salt Lake City Mayor Erin Mendenhall. "In my work as a founding member of the Utah Broadband Coalition, I've seen how the benefits of Comcast's investments extend to businesses, government organizations, students and all Utahns; including seniors, veterans and those in low-income households. We greatly appreciate Comcast's announcement today because it prepares us for tomorrow's demands." 
Additionally, Comcast is introducing faster upload speeds in Salt Lake City to Xfinity Internet customers who choose xFi Complete, and Comcast Business customers will receive up to 10x faster upload speeds than their current levels.  
And, while fast speeds are table stakes, Comcast is regularly introducing new capabilities to help our customers manage their increasingly connected homes.  
Comcast's 10G destination will allow us to scale beyond anything our customers do on the network today, to whatever tomorrow brings. It's powered by our cloud-based, all-digital network, that will allow us to deliver multigigabit symmetrical speeds, coupled with lower latency, energy efficiency, increased security, and improved reliability. 
"One key takeaway from the pandemic remains clear: high-speed internet access is critical for everyone," said J.D. Keller, senior vice president, Comcast Mountain West Division. "Utah businesses need reliable, high-speed internet services — students need to complete homework — and families need to connect to loved ones around the globe. Comcast's continued investments in our network ensure Utahns have the technology to participate in today's digital world." 
More information about the industry's efforts toward a 10G future can be found here.  
Visit Xfinity or Comcast Business to learn more and sign up for these exciting new products.