Comcast Payment Services Supervisor Chris Thomas was already thinking about starting a local employee resource group when he was approached about leading one. 
The Comcast Black Employee Network (BEN) was looking for a lead in the Utah market, and the position aligned perfectly with Thomas' passions for community service and employee development. 
"I love any opportunity to help my employees and teammates move forward with their careers. I've had people help me grow, and I have always wanted to pay it forward," Thomas says. 
BEN exists in chapters across Comcast offices nationwide to support and empower Comcast employees in four priority areas: career, culture, community, and commerce. 
In Utah, Thomas assembled a team of eight who were passionate about helping employees in the Utah market grow professionally and deepen their involvement in community and commerce. The group began meeting in summer of 2018 and is now building a full schedule of activities for 2019. 
Culture
"BEN had a family feel from the beginning. It's a fun chance to mingle, but also a chance to be a part of something bigger than ourselves," said Detralius Cooks. 
Cooks says that he and many other employees are often looking for ways to be more connected to their teammates and the community, and it provides that network feel. Anyone from the Comcast office can be a part of BEN, and Cooks is hoping that employees who aren't black will also consider joining. 
The BEN team brings the work of local artists into the Comcast office in Sandy to generate employee conversations about diversity in art and culture.
Community and Commerce
BEN has actively partnered with like-minded organizations in Utah who are already engaging the black community in service and networking. 
They quickly found partners in the Utah Black Chamber, with which they will support community events and outreach this year. They will partner with the Utah Food Bank to conduct a food drive in February when the need is most intense. 
Cooks said that attending a luncheon in celebration of Martin Luther King Jr. was a highlight of his BEN involvement so far, seeing "the larger community come together to celebrate King's values of inclusion, respect, and diversity." 
"I have to give a nod to the folks that work with me," Thomas said. "They have so much passion and varied experience, and I've learned so much from them. They are always helping me think about how we grow, find contacts and brainstorm new ideas."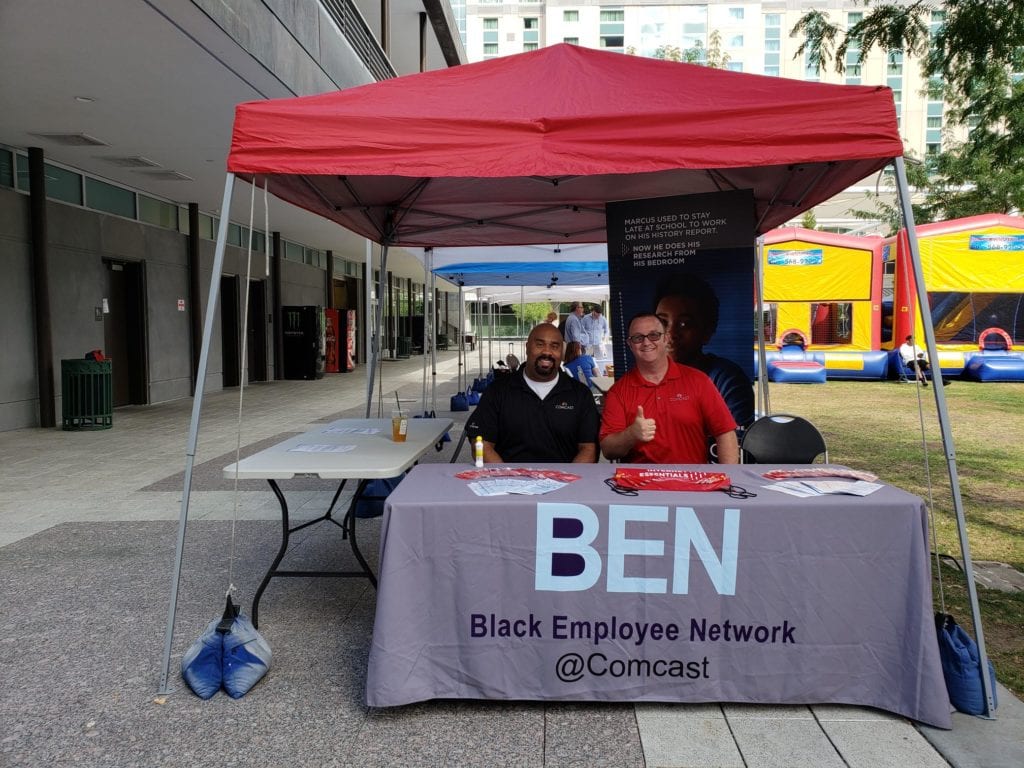 Career
One of BEN's main priorities is to empower employees to advance in their careers by hosting networking events, making mentoring available, and sharing resources.
"The team here is really passionate about helping others on their leadership journey, which is huge. Being a part of BEN has reminded me how much you can grow in your career at Comcast if you just ask for skills and support," Cooks said.
"At Comcast, we have a saying, 'You don't have to BE to belong.' I want everyone to feel comfortable joining our activities or coming to us for help," said Thomas.
Follow @BEN_Comcast on Twitter to see what the network is up to nationwide.